TILE ROOF REPAIR & REPLACEMENT

Phoenix, Arizona
Whether you currently have a tile roof needing repair and have questions, or you are considering a replacement tile roof for your home, Overson Roofing can help. With our 40 years track record of quality service, you know we'll have your roof looking like new in no time.
Why is Tile Roofing So Popular?
Tile roofing gained popularity and became the roofing material of choice for many home builders and homeowners throughout Phoenix during the late 1980's and continues to be the preferred roofing material today. Cement and clay tile offer several advantages over asphalt shingles. One of the most obvious is the look of tile roofs. With pitched roofs, a considerable portion of a home's exterior is impacted by the texture and color of the roof. Tile roofs offer an added dimension to the look and feel of a home's elevation.
If you own a home with a tile roof or are considering tile as a roofing material option, you may have assumptions such as tile is a lifetime roof or perhaps a 50-year roof? Those assumptions are now being put to the test as many of the tile roofs in the valley reach the 20- and 30-year age mark. We are now seeing leaks and other issues with tile roofs that require repairs, renovations or replacement.
Why You Should Consider Tile Roofing
Tile roofs offer a variety of advantages over asphalt and wood roofs. From the aesthetically pleasing appearance to the fire safety aspect of tile there are many reasons to choose tile when deciding on a roof such as the following:
Long lasting & durable

Fire resistant

Economical & Eco-Friendly

Low maintenance

Resistant to high winds
Looking for a Reliable Tile Roofing Contractor in Phoenix?
Having the best information about tile roofs will help you make the best choice in regards to your tile roofing, which can save you money and assure you of a problem free roof for years to come.  We were in business when tile became the roof of choice the 1980's. We have been in, and have learned a lot about tile roof industry over the years. For many of those years we received occasional calls for simple repairs and that was about it. Now that there are a lot of tile roofs which are hitting the 20 yr mark we are getting more and more calls from homeowners needing more serious help with their tile roofs.
Types of Tile Roofing
Overson Roofing has experience installing many different types of tile roofing systems including but not limited to:
Clay
Concrete
Slate
Villa
Synthetic
Mission
Flat
Tile roofing systems have the lowest life cycle cost of all roof types. The durability, eco-friendly and low maintenance properties allow your tile roof to last for decades with minimal wear and tear helps keep money in your pocket.
Overson Handles The Complete Roofing System
Additional Roof System Components
Along with the tile roofing there are many other aspects of your roofing system that need to be considered when replacing or repairing your roof. These additional components include:
Battens
Roof battens are the fixed points where the tiles are connected to the roof. The battens are used for spacing out the tiles when placed on the roof. Battens are most often made of wood but in some cases metal battens are used.
Underlayment's
There are two types of underlayment that can be used with tile roofing systems, felt and synthetic. The underlayment is installed underneath the shingles and provides a protective layer between your roof and the tile. Underlayment helps prevent water and debris from getting into your home.
Flashing
Roof flashing is a thin metal strip that protects openings and cracks in the roof from water damage. Flashing is most often made of steel, copper or aluminum. The flashing is placed in areas around chimneys, skylights, valleys, and vents.
Eave Closures
Eave closures are made from aluminum and are placed at the edges of your tile roof. This material is used to keep birds and other pests from getting underneath the tile and nesting which can cause potential damage to your roof.
Anti-Ponding Taper Strip
Anti-ponding taper strips prevent water from accumulating on your roof and potentially causing water damage. These strips are required with raised fascias.
J Tile Pan
Tile pan is flashing used where the tile roof connects with a sidewall. J tile pan flashing is made from aluminum and prevents water and debris from entering the cracks where the roof intersects with a wall.
Ventilation Components
Along with the above-mentioned components of a roofing system, Overson Roofing is experienced in installing ventilation to your roof to keep allow airflow into the home. Proper ventilation is important in keeping your roof from collecting mildew and also helps regulate your home's temperature keeping your energy costs down. The ventilation Overson Roofing installs includes but not limited to:
Tile Ridge Vent
Tile ridge vents are placed at the hottest point of the roof, the ridgeline. Ridge vents prevent your attic from becoming too hot potentially causing damage to your roof. Tile ridge vents are cost effective in the sense they help regulate your homes temperature keeping energy costs low.
O'Hagin Vents
O'Hagin vents are the best solution for ventilating tile roofing systems. The O'Hagin vent protects your attic's insulation by providing maximum airflow into your home while keeping with the aesthetics of your tile roof.
Choosing a Qualified Tile Roofer
When choosing a reputable roofing company, you want to make sure they are qualified to do the job. Ask the contractor about their state licensing. Roofing companies also need individual licenses for residential and commercial properties. Overson Roofing is licensed by the State of Arizona Registrar of Contractors (Overson Roofing License Numbers ROC 274692, 207860, and 247074). Overson Roofing is fully licensed, bonded and insured. Also, search for quality reviews and Better Business Bureau ratings. Overson Roofing continuously receives A+ ratings from the BBB and won their Torch Award for Ethics in 2016, one of only 2 roofers to ever win that honor.
Filing an Insurance Claim
If your roof has been damaged by a storm or some form of an accident you may need to contact your insurance company. Before you make any decisions on fixing your roof contact your insurance provider to find out what your options are. Once you understand your options hire a licensed and qualified roofing contractor to make the assessment process easier. The contractor will assess and document the damage on your roof by noting the date of the storm or accident, taking photos, and writing down areas that were damaged. It is your responsibility to disclose any damage to property inside of your home. Ask the roofing contractor for an estimate on the repair or replacement costs.
After your contractor gives you the assessment documentation contact your insurance company to file your claim.
Getting Multiple Estimates
You often don't need to get multiple estimates. Most all policies are replacement cost policies, which means your insurance company will pay you the cost to replace your roof even if you are only get one estimate. They might encourage you to get three estimates, but it is not necessary. And especially in monsoon season, when all roofing companies are inundated with requests, you might get the process going faster if you do your due diligence to choose one company to work with. Be sure that you call licensed and bonded professionals that can produce local references that are at least one year old.
Contact
If you need help  with a tile roof repair or replacement, get your free estimate today by filling out the form below or by calling 480-354-2564. Our roofing professionals will be more than happy to help you with any questions you may have concerning your roof.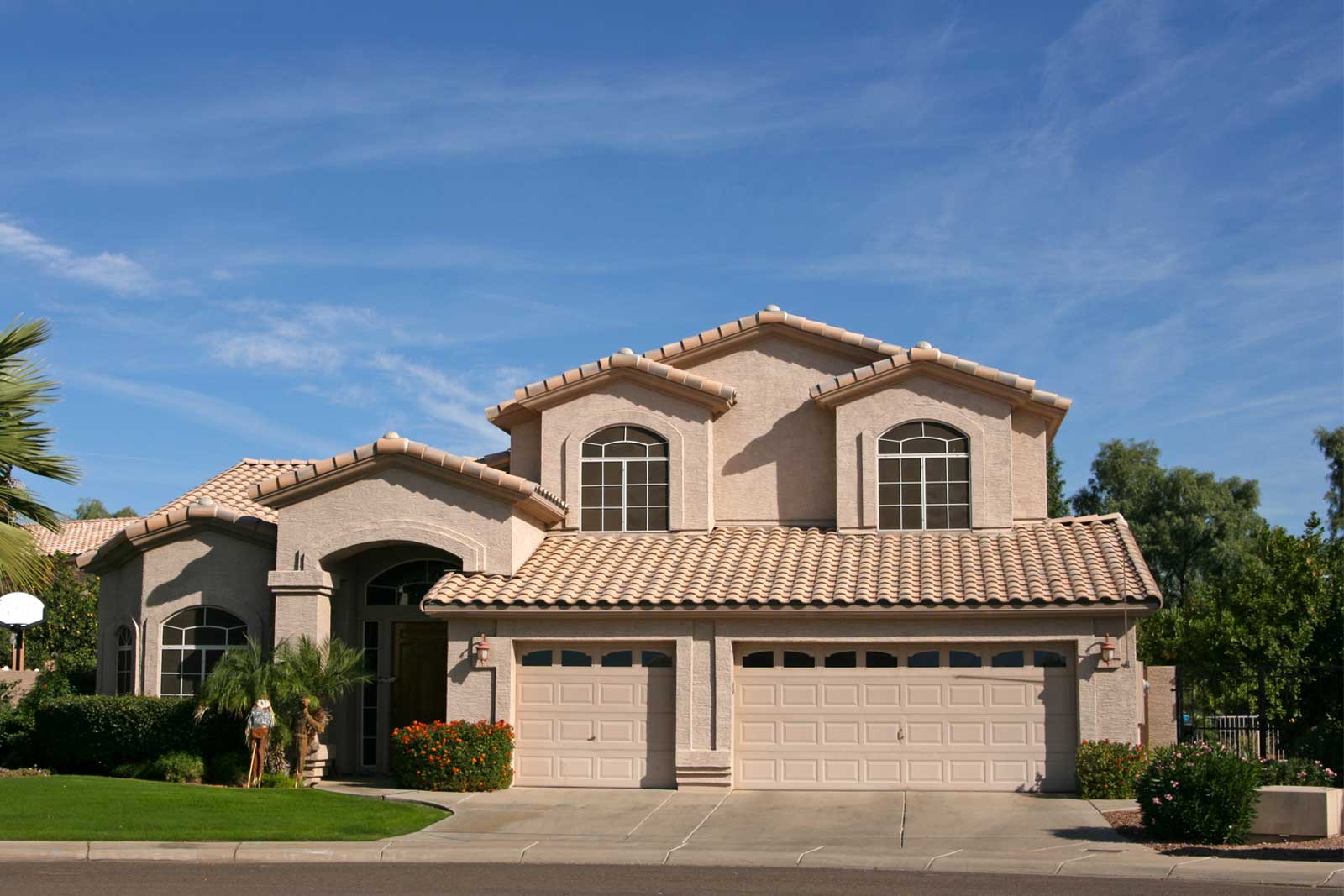 Get A Free Roof Estimate
Please fill out the form below and we will get back to you within 24 hours or less.